Tax Identity Theft Awareness Week has an event for you
January 30, 2017
by
Seena Gressin
Attorney, Division of Consumer & Business Education
Today we're kicking off Tax Identity Theft Awareness Week. Tax identity theft happens when a scammer files a fraudulent tax return using your Social Security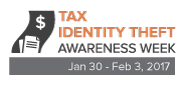 number (SSN) and claims your refund. It also happens when someone uses your SSN to earn wages, and sticks you with the tax bill.
Last year, 34% of the identity theft complaints to the FTC concerned taxes, employment, or wages, falling from 45% in 2015. Total identity theft complaints to the FTC also were down, dropping to 399,225 in 2016, from 490,220 in 2015. While complaint numbers fell in 2016, they stayed higher than they were in 2014.
Last year, we also saw more complaints about IRS imposters – scam callers who say they're going to arrest or fine you unless you immediately pay them for taxes you supposedly owe. We received 117,943 complaints about IRS imposters in 2016, up 22% from 2015, and up 125% from 2014.
There was encouraging news, too. In October, police raided call centers in India. The Justice Department said they were part of a network responsible for 1.8 million calls to the United States for IRS imposter scams and other schemes. In September, before the raids, the FTC received 18,118 consumer complaints about IRS imposter calls. In December, the complaints were down to 761, declining almost 96% from September.
There could be a lot of reasons for the decline – and it's a safe bet that the scammers will keep trying. So stay vigilant.
This week, the FTC, the IRS, the Department of Veterans Affairs, and others will host free webinars and Twitter chats about avoiding tax identity theft and IRS imposter scams. If you're a taxpayer, tax professional, service member, or small business operator, there's an event for you.
The best ways to avoid tax identity theft?
File your tax return as early as possible.
Use a secure internet connection if you file electronically, or mail your tax return directly from the post office.
Know the IRS won't contact you by email, text, or social media. If the IRS needs information, it will contact you by mail.
If you find out you have been a victim of identity theft follow this link to get help.
This site is designed to help you through the process.